New Birds Coloring Book!
In my Spring Newsletter I mentioned that I had been commissioned by Fox Chapel Publishing to create a coloring book featuring the 50 state birds and flowers. I'm happy to say, the book is finished and has gone to print. Yay! It was quite a project and kept me very busy for a few months so I don't have any other new images to share this time. But I do have 50 new bird images to share! Not only did I do 50 state birds and flowers line art drawings for coloring in, but I also colored some in for the book as examples. I can share a few of these images with you now that they're done.
Here's the first drawing I did for the book, the bird and flower of my own state of Washington, the American Goldfinch and the Coast Rhododendron.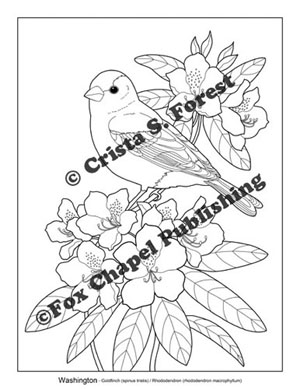 And my home state of California bird and flower, the Valley Quail and the Golden Poppy. I like the added wagon wheel to give a hint of California's old west past.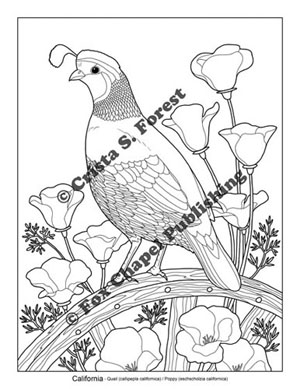 Those were some of the line art drawings you will find in the book (minus the copyright marks!) that you can color in. Here are a couple of the images that I colored in as examples. These samples will be in the book along with their line art versions. First we have the Minnesota state bird and flower, the loon and pink ladyslipper.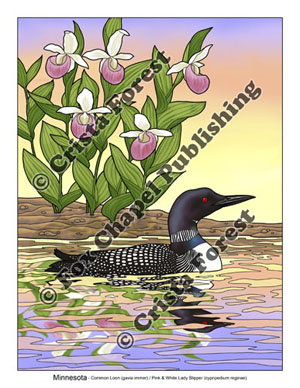 And here we have the Maryland state bird and flower, the striking Baltimore Oriole and the black-eyed Susan daisy.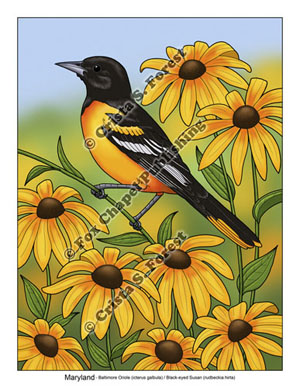 New State Bird Color Versions
Now, those 50 state birds and flowers images are licensed and copyright protected by Fox Chapel Publishing for use in coloring books. But I'm free to use the images on other products. However, I don't want to step on any toes by using the exact same image. Even if it's technically legal, it doesn't feel right. So I made some variations of the original images to avoid total duplication. So far I have done California and North Carolina. I've also included a banner with the state name in the image. I have both line art and color versions.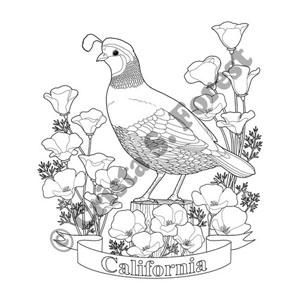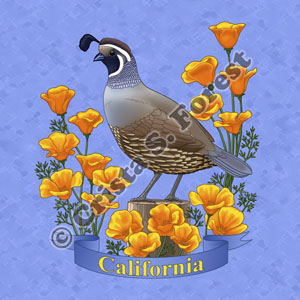 CA Quail prints and greeting cards available